The Past
Stephen 'Spling' Aspeling has been a film fanatic since he first watched the psychedelic elephant dance from Dumbo in the early '80s and a movie critic since 2007. His DVD collection easily clears 900 original titles and Spling realises that while some movies are considered to be art, they are essentially entertainment.
The Present
Spling Movies CC facilitates...
SPL!NG, spling.mobi, SPL!NG on Twitter, FCASA and SPL!NG on Facebook

You may have read Spling's reviews at...
2OceansVibe, All4Women, CapeTownCreatives, STAX Black Box and CapeTowners
You may have also seen Spling on...
Ster-Kinekor Movie Buffs, E-News Channel, The Showbiz Report
You may have also heard Spling on...
101.9 ChaiFM, 2OceansVibe Radio, CCFM 107.5
You may have read about Spling on...
Live Mag, Fortress of Solitude, Grocott's Mail,
Spling's balanced perspective means that his taste in film caters for art house and commercial movies. Each movie is reviewed on its own merits, both in terms of entertainment and artistic appreciation.
The Future
Spling believes that movie reviews should be more accessible in terms of consumption and retrieval, which has prompted such innovations as spling.mobi. With your continued support, Spling will try to make your movie experiences better and better. Show your support by joining the SPL!NG page on Facebook now.

Movie Critic Interview featuring Spling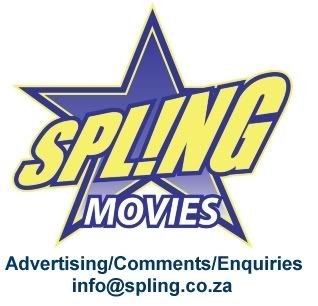 Contact Spling

Get in touch with Spling if you want to: pass on a great idea for the website, discuss some serious advertising potential, alert us to a website error/update or if you've got a burning question about anything to do with movies.
ADVERTISE/SPONSOR: If you're interested in sponsoring a weekly feature or getting some much needed exposure for your brand on SPL!NG, make contact with Spling to take the next step.
IDEAS/SUGGESTIONS: Did you just have a light bulb moment? Did you just think of something that could improve the SPL!NG website? Do you have a venture that could be of mutual benefit? Of course we want to know.
TECHNICAL/UPDATES: If you've found a link that isn't working or a company profile that needs updating... look no further.
There's obviously a lot to talk about - so drop Spling a mail!
---